This Weeks Course In Focus: Control Of Substances Hazardous To Health (COSHH)- E-learning Course
Control of Substances Hazardous to Health
This course covers what you need to know about the Control of Substances Hazardous to Health (COSHH).
It's aimed at anyone who is exposed to Substances Hazardous to Health at work, as well as line managers with responsibility for such people.
The course is delivered using various mediums including animations, real life videos, presenters, optional subtitles and online questioning to test your knowledge, so giving you an all round learning experience.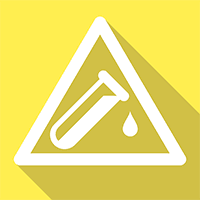 What are 'Substances Hazardous to Health'?
In legal terms, these are substances that are classified as "very toxic, toxic, harmful, corrosive or Irritant" under the Classification, Labelling and Packaging Regulation (CLP). This was a new regulation that came into force in January 2009 dovetailing with a set of regulations called REACH.
REACH is a European Union regulation concerning the Registration, Evaluation, Authorisation and Restriction of Chemicals, which came into force on 1st June 2007. One of the main aims of REACH is to provide a high level of protection for human health and the environment from the use of chemicals.
This course consists of 10 modules and has a duration of around 125 minutes and will give you a really great understanding of what COSHH is, how to assess the hazards and associated risks of it as well as different control measures that may be required when dealing with various substances.
Candidates are required to achieve a 70% mark in order to quality and receive a certificate. You can pause training at any time and pick back up where you left off at a time that suits you.
As you work through each of the modules listed above, you will be tested with multiple choice questions. This will determine if you have absorbed and retained the information you have learned.
It is a requirement of the course to achieve an overall 70%+ score. You have three free attempts to complete the course.
The course is accredited by IIRSM & The Institute of Hospitality.
You will received a certificate after completion. This is a digital PDF only, example shown.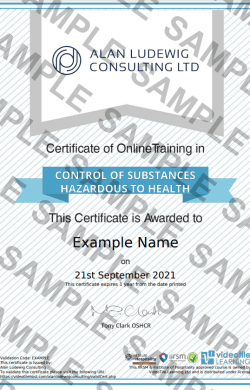 COSHH- E-learning Course Screenshots
How To Sign Up For This Course
Free Trial
Choose the option below to setup a free trial account
£
0
Trial Module 1 From All Courses We Offer
Get to experience how the courses are delivered

Pick & choose courses to suit you

ZERO cost commitment
Buy Now
Control Of Substances Hazardous To Health (COSHH) E-learning
One off affordable purchase

125 mins of quality learning which you complete at your own pace

Accredited Course (IIRSM & Institute of Hospitality)
Once you have completed your transaction. You will receive email instructions on how to register and start your Control Of Substances Hazardous to Health (COSHH) Training.
Do check your junk/spam folders for our emails as sometimes they end up in there. Good luck from all the team here!!
Take A Look At All Our Online Courses
We offer over 100+ quality, accredited health & safety, business and health & social care e-learning courses. Take a look at our training course page HERE.
Whether you are looking to upskill or complete a refresher course, we are confident that our training platform and courses will provide exactly what you need. Investing in yourself and your employees is critical to not only meeting statutory requirement, it also improves efficiency and output within the business.
If you are looking to provide training for a multiple number of staff, get in touch to discuss your options. We can offer bespoke 'bundles', allowing you to select the courses that are right for you and your team as a one off cost, which saves you money.
In addition to the bundles, we can offer discounts on multiple purchases!
The more you buy, the more you save. Get in touch to find out more.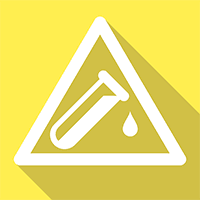 This Weeks Course In Focus: Control Of Substances Hazardous To Health (COSHH)- E-learning Course Control of Substances Hazardous to Health This course covers what you need to know about the Control of Substances Hazardous to
Read More »