CSCS Green Card Training Bundle
Level 1 Health and Safety in a Construction Environment
Each year in the UK, people are killed, injured and suffer work-related illnesses while carrying out their jobs. So Health & Safety is a significant concern.
The government, employers and workers all have an essential role to play in reducing deaths and accidents and preventing ill-health at work.
This course is aimed at people starting out in the construction industry and can be used as part of their induction process or as preparation for the online accredited exam.
Whilst this course, Level 1 Health & Safety in a Construction environment provides you with a qualification in its own right, and also forms part of your CSCS green card application. The CSCS green card training bundle starts with an introduction to the legal aspects of health and safety before covering the basics of risk assessment and safe working practices. It then goes into detail to cover the most common hazards encountered in construction environments from Working at Height and Respiratory Hazards to electrical and chemical hazards. Once you finish the training element, complete the online exam to receive your ETA Awards Certificate.
Steps To Receive Your CSCS Green Card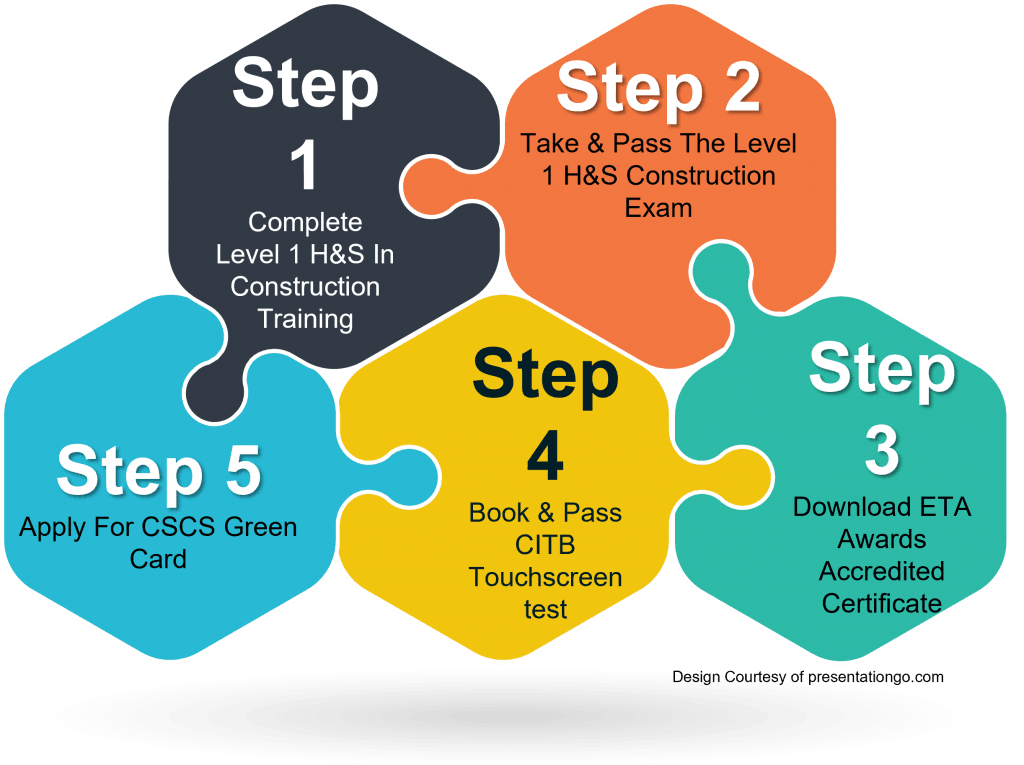 Step 1 – Purchase the Level 1 H&S In Construction Course & Online Exam using the option below. Work through the course at your own pace.
Step 2 – Take the online exam. Ensure you have a webcam & speakers as the exam will film you as part of the validation process.
Step 3 – Once you have passed the online exam, download your accredited ETA awards certificate.
Step 4 – Book your CITB touchscreen test HERE . Attend your local CITB test centre. Ensure you have a copy of your ETA Awards certificate with you.
Step 5 – Register for an account with CSCS by clicking HERE and apply for your card by following the instructions. You will need both your ETA Awards Certificate and CITB H&S test Certificate.
CSCS Green Card Training Course Content
This course consists of 10 modules as shown below and has a duration of around 120 minutes (excluding the exam) and will give you a really great understanding of construction health & safety. The course is aimed at people starting out in the construction industry or those already experienced but are yet to obtain their CSCS card.
Candidates are required to achieve a 70% mark in order to quality and receive a certificate for the level 1 course. You can pause training at any time and pick back up where you left off at a time that suits you.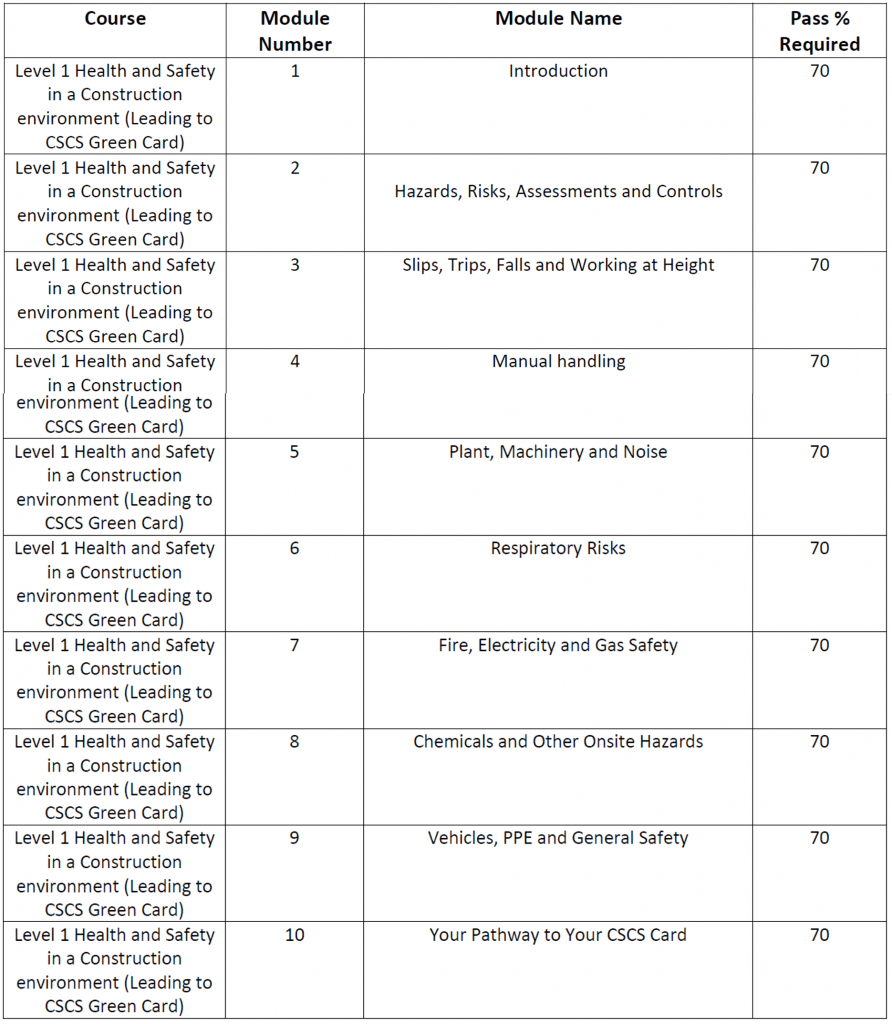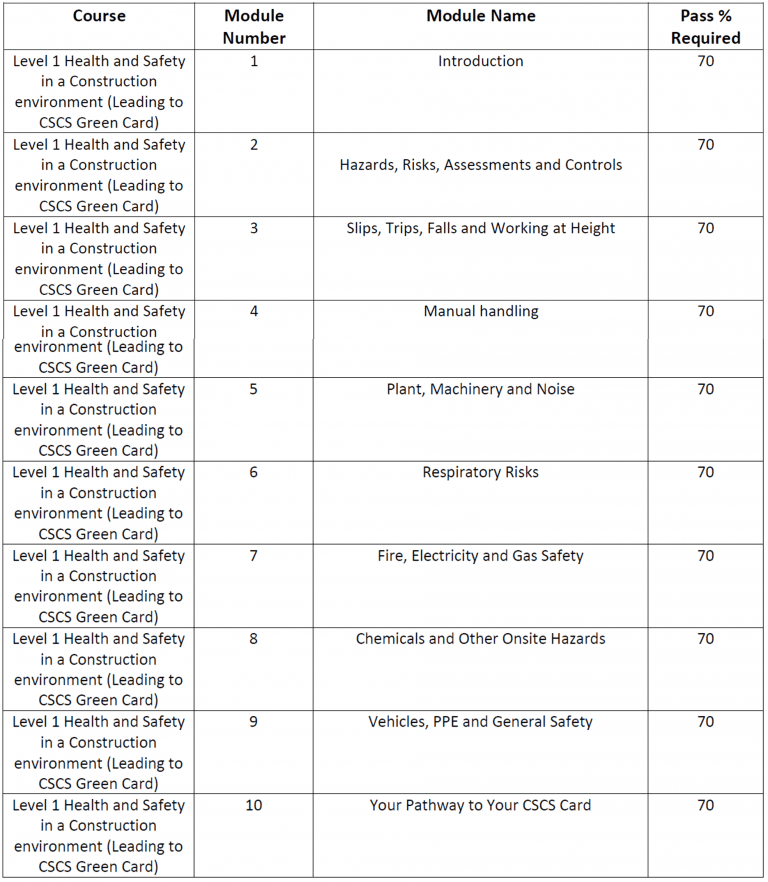 Free Trial
Choose the option below to setup a free trial account
£
0
Trial Module 1 From All Courses We Offer
Get to experience how the courses are delivered

Pick & choose courses to suit you

ZERO cost commitment
Buy Now
Level 1 Health and Safety in a Construction Environment training course and exam
One off affordable purchase

120 mins of quality learning which you complete at your own pace

Accredited Course (ETA Awards)
Take A Look At All Our Online Courses
We offer over 100+ quality, accredited health & safety, business and health & social care e-learning courses. Take a look at our training course page HERE.
Whether you are looking to upskill or complete a refresher course, we are confident that our training platform and courses will provide exactly what you need. Investing in yourself and your employees is critical to not only meeting statutory requirement, it also improves efficiency and output within the business.
If you are looking to provide training for a multiple number of staff, get in touch to discuss your options. We can offer bespoke 'bundles', allowing you to select the courses that are right for you and your team as a one off cost, which saves you money.
In addition to the bundles, we can offer discounts on multiple purchases!
The more you buy, the more you save. Get in touch to find out more.